(In continuation to Ancient to Modern – Transformation of the Ships)
Digitalization has compelled the world to push the boundaries of conventions and emerge with a more futuristic approach. Along with the world's outlook, this digitalization has reshaped the marine industry in the past few decades. While, the technology continues to advance, an introduction to Autonomous Ships is about to witness an inception of the new era in shipping.
Autonomous Ships are crewless and remotely controlled ships. With the use of Artificial Intelligence Technology and sensors which include LIDAR, RADAR, High Definition Camera, Sonar and Thermal Image, these ships will acquire the ability to monitor their own health, establish and communicate what is around them and make decisions based on the vital information. These self-sailing unmanned vessels can lead to a paradigm shift in terms of safety, security and environmental protection.
Different methods and Levels of Autonomy (AL) can be achieved through monitoring and remote control from a nearby manned ship, an onshore control center or through machine learning or artificial intelligence, letting the vessel itself decide the course of action.
Autonomy levels proposed by Lloyd's Register of Shipping (UK)
Autonomy Level (AL)
Details
AL0
Manual – No autonomous function
―
AL1
On-ship decision support
All actions at the ship level are taken by a human operator, but a decision support tool can present options or otherwise influence the actions chosen, for example DP Capability plots and route planning.
AL2
On and off-ship decision support
All actions at the ship level taken by human operator on board the vessel, but decision support tool can present options or otherwise influence the actions chosen. Data may be provided by systems on or off the ship, for example DP capability plots, OEM configuration recommendations, weather routing.
AL3
"Active" human in the loop
Decisions and actions at the ship level are performed autonomously with human supervision. High- impact decisions are implemented in a way to give human operators the opportunity to intercede and override them. Data may be provided by systems on or off the ship.
AL4
Human on the loop – operator/supervisory
Decisions and actions are performed autonomously with human supervision. High impact decisions are implemented in a way to give human operators the opportunity to intercede and over-ride them.
AL5
Fully autonomous (& rarely supervised)
Unsupervised or rarely supervised operation where decisions are made and actioned by the system, i.e. impact is at the total ship level.
AL6
Fully autonomous (& with no supervision)
Unsupervised operation where decisions are made and actioned by the system, i.e. impact is at the total ship level.
Source: Mitsui & Co. Global Strategic studies institute monthly report September 2019 on Maritime Autonomous surface ships
Global Status of Autonomous Ships
Several Autonomous Ship projects are in development across the globe, many countries and organizations are joining forces to shed a light on the importance of unmanned ships. While the entire world is stepping ahead in constructing unmanned ship, companies such as General Electric, DNV GL, Rolls-Royce Holding PLC, Kongsberg Gruppen AS, NYK Line, Mitsui E&S Holdings Co Ltd, Wartsila Corporation, DSME Co., Ltd., Vigor Industrial LLC., and Praxis Automation Technology B.V. are considered as a major players in the autonomous ship market.
Leading the way, Europe is positioned at the forefront with the application of Advanced Autonomous Waterborne Applications Initiative (AAWA) and Maritime Unmanned Navigation through Intelligence in Network (MUNIN) towards the development of autonomous ships. Rolls-Royce along with Finnish state-owned ferry operator successfully demonstrated world's first Fully Autonomous Ferry in December 2018 in the archipelago south of the city of Turku, Finland. KONGSBERG launched the world's first autonomous container ship named "MV Yara Birkeland" in February 2020 which is is expected to be fully autonomous by 2022. The launch of, "Mayflower Autonomous Ship" (MAS) designed by IBM iX promised to provide a safe, flexible and cost-effective way of gathering data about the ocean. The ship will be fitted with Valeport uvSVX and a Valeport Altimeter to provide vital underwater depth data which will protect the vessel and onboard technology during its expedition.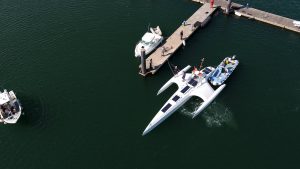 In December 2019, South Korea Telecom and Samsung Heavy Industries have announced the successful testing of first 5G based autonomous and remote control navigation test platform and built remote control center. With a leverage of 5G, Internet of Things (IoT) and AI technologies, these two companies promises to improve safety and productivity through real-time detection and control of all equipment within shipyard.
Japan's Ministry of Land, Infrastructure, Transport and Tourism has been holding meetings for the Maritime Innovation Subcommittee since February 2016 to promote a productivity revolution in the maritime Industry.
Advantages:
The introduction of Autonomous ship will eliminate human errors and will contribute towards the higher potential of reducing onboard accidents resulting into less financial and human losses.
These unmanned ships will offer low operational costs as there will be no crew accommodation, crew safety equipment, air condition or sanitary system.
As the ship's major focus is on environmental factors, it will determine to increase the safety of aquatic life and will also increase fuel efficiency.
As vessel designed with a minimum rotating parts and is likely to be driven by gas/fuel cells will have zero or low emissions to air and sea.
Disadvantages:
Despite the operational savings, the drawback autonomous ship has is the huge amount of investment in technology, especially in the early stage of development.
Difficulty in maintenance of moving parts during the long voyage due to lack of crew. The breakdown could lead to significant delays.
There may be a rise of incompatibility between current marine infrastructure and unmanned vessels.
IMO's Take On Autonomous Ship
Considering the advantages and disadvantages, the global regulatory body for International shipping, IMO has taken few steps to address autonomous ships on the basis of safety, operations, trade and environmental factors that has an impact on personnel. IMO's Strategic Plan (2018-2023) has a key strategic direction to Integrate new and advancing technologies in the regulatory framework. Agreeing to include the issue of marine autonomous surface ships on its agenda, IMO's Maritime Safety Committee (MSC) has given the rapid technological developments relating to the introduction of commercially operated ships in autonomous mode. An upcoming conventions under the purview of IMO's Legal and Facilitation Committee will also include the regulatory scoping exercises on their agenda.
With a view to touch an extensive range of issues which include human element, safety, security, liability and compensation for damage, interactions with ports, pilotage, responses to incidents and protection of the marine environment, the scoping exercise is seen as a starting point.
 Disclaimer: The information contained is purely based on reports available on an online platform. The company is not responsible for the content and will not be responsible for any decision made on the basis of such information.