Royal Caribbean International formerly known as Royal Caribbean Cruise Line, was founded 53 years ago by three Norwegian shipping companies: Anders Wilhelmsen & Company, I.M. Skaugen & Company, and Gotaas Larsen in 1968. It merged with the Greek Cruise line's, Celebrity Cruises in 1997 and changed its name from Royal Caribbean Cruise Line to Royal Caribbean International. At the same time, Royal Caribbean Group was formed and RCI became a subsidiary of the same and is based in Miami, Florida.
The first cruise ship for the line was Song of Norway, which debuted in 1970, followed by Nordic Prince in 1971 and Sun Viking in 1972, while the oldest Royal Caribbean ship is Grandeur of the Seas was built in 1996.
Royal Caribbean International controls 19.2% of the worldwide cruise market by passengers and 14.0% by revenue. It operates the four largest passenger ships in the world and as of January 2021, the line operates twenty-four ships and has six additional ships on order.
Regardless of its name Royal Caribbean offers voyages beyond the Caribbean to more than 280 beautiful destinations across 71 countries on six continents and is known to provide luxurious accommodations and activities. Ranging from 3 to 18 days, Royal Caribbean operates exciting itineraries to the Bahamas, the Caribbean, Bermuda, Alaska, Canada, and New England, Europe, the Panama Canal, Hawaii, South America, the Middle East, Asia, and Australia/New Zealand. Royal Caribbean also operates two privately owned resorts that are used as stops on some Caribbean and Bahamas itineraries. They are Labadee, a resort on the northern coast of Haiti, and Coco Cay, a private island in the Berry Islands region of the Bahamas. Each resort features canopies for eating, lounge chairs, palm trees, white-sand beaches, and a number of activities. The company is planning to open additional private resorts in Asia and on Lelepa Island, Vanuatu.
Since Sovereign of the Seas entered service in 1987, all subsequent Royal Caribbean ships have names ending with the phrase "of the Seas". The best 4 cruises in the RCI fleet are:
Symphony of the Seas:
The cruise accommodating 6,680 passengers is one of the newest ships in Royal Caribbean's Oasis fleet is also the largest cruise ship in the world. This massive ship – which set sail in 2018 has 2,200 crew members and features 18 decks packed with activities.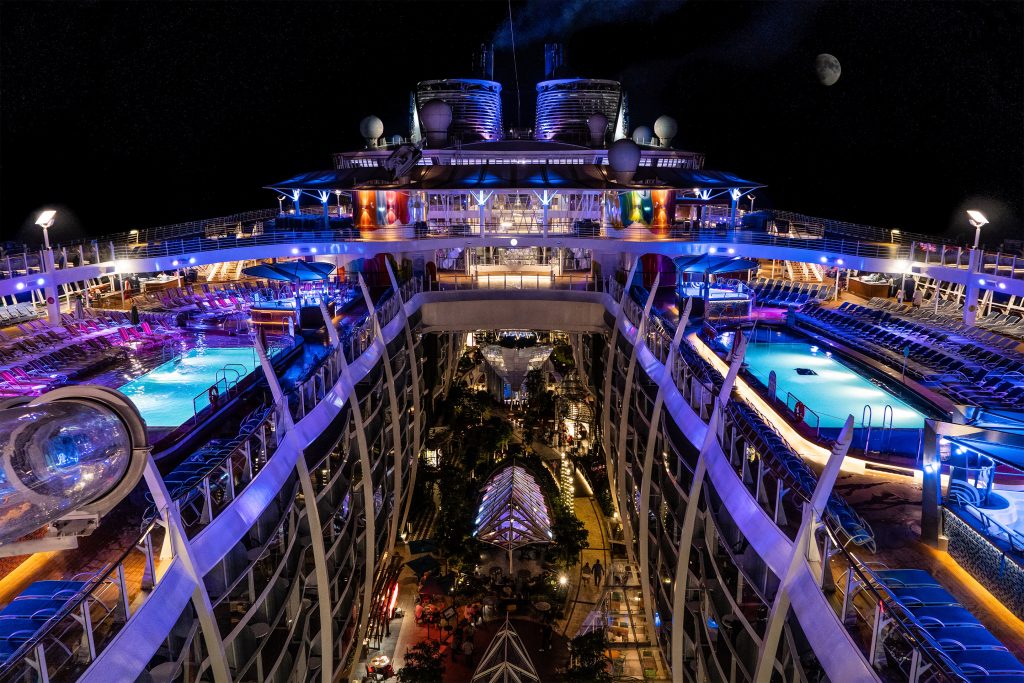 Active fun-seeking passengers will find a surf simulator, an indoor ice skating rink, two 40-foot rock walls, a zip line, and a 10-story slide. While, relaxation seekers can unwind in the spa, sip cocktails made by robotic bartenders, or stroll through the Central Park-inspired neighborhood.
Onboard snacks and meals are served at more than 15 quick-service and sit-down eateries. The Main Dining Room is where the ship's traditional, complimentary dinners are provided nightly, but specialty options like a steakhouse, a bistro, and a Johnny Rockets outpost are also available. Also, Jamie's Italian, a restaurant by celebrity chef Jamie Oliver can be enjoyed by cruisers.
Passenger cabins consist of work desks, flat-screen TVs, and minibars. Guests can choose from 258-square-foot Interior Staterooms, some of which have virtual balconies with real-time views of the ocean, or opt for upgraded cabins with furnished balconies and up to 2,367 square feet of space. Select suites also feature two bedrooms, whirlpool tubs, and dining rooms.
Liberty of the Seas:
This cruise ship houses up to 4,960 guests and 1,360 crew members. Cruisers have praised the food, which includes four complimentary options and six specialty eateries for an extra fee. The ship also possesses a surf simulator, a rock-climbing wall, and an ice skating rink.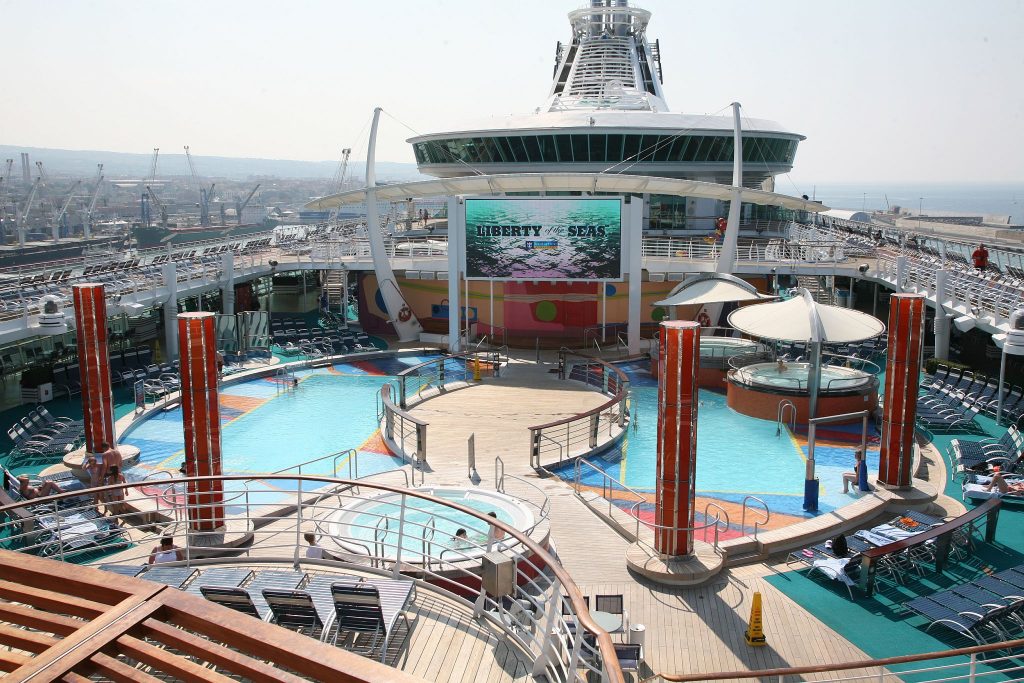 Kids can enjoy the three pools, ship's waterslides or the Tidal Wave, the boomerang slide at sea, and also age-specific youth clubs or meet DreamWorks film characters. Meanwhile, adults can grab a cocktail at one of 12 bars and lounges, try their luck at the casino or participate in the Mystery Dinner Theatre.
Like other ships in the fleet, Liberty of the Seas features four stateroom categories- Interior, Ocean View, Balcony, and Suite. While Interior cabins range from 150 to 327 square feet, Suites measure to up 1,358 square feet. All cabins are outfitted with flat-screen TVs and vanity areas and Suites receive additional perks like concierge service.
Oasis of the Seas:
The 6,780-passenger Oasis of the Seas unveiled the line's first dedicated karaoke venue, a live music space with a large dance floor, brand-new dining options (including a barbecue restaurant), three waterslides, new bars, and more after extensive refurbishments.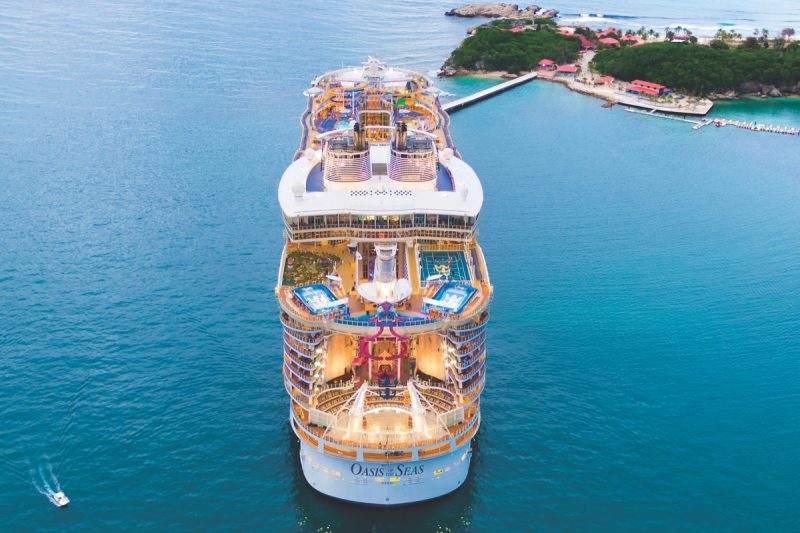 This ship may not entice those seeking secluded spaces, but most cruisers say the seven distinct onboard neighborhoods make up for that. The prodigious ship features designer boutiques and larger staterooms than other ships in the fleet.
Oasis of the Seas offers four cabin categories- Interior, Ocean View, Balcony, and Suite. Interior rooms average about 150 square feet, while Suite category cabins can span anywhere from 287 to 1,524 square feet and include added amenities like Jacuzzis and expansive balconies.
While the cruisers are impressed with the ship's abundant amenities, they noted that with 2,100 crew members, there aren't many onboard experiences – especially when the ship is filled to capacity. Oasis of the Seas caters to those looking for nonstop onboard action.
Freedom of the Seas:
The Freedom of the Seas houses 1,360 crew members and a total of 4,515 passengers. Recent updates include a new pool area with night-time glow-in-the-dark laser tag, fresh dining venues, and more. Other highlights include a surf simulator, a rock-climbing wall, and an ice skating rink. Adults can spend time at the casino and 10 bars and lounges.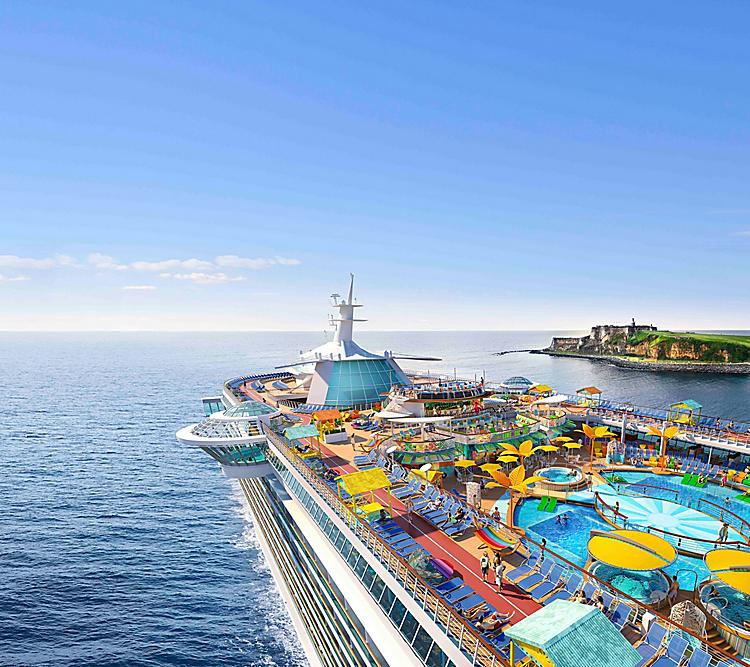 Freedom of the Seas houses a three-level main restaurant, several casual eateries (including Johnny Rockets and Ben & Jerry's Ice Cream), and three specialty restaurants. When it comes to lodging, guests can choose from four categories like all the other RCI cruises Interior, Ocean View, Balcony, or Suite. All cabins include minibars and LED TVs. Cruisers recommend springing for a suite if you're traveling with a group, as such rooms offer extras like private balconies and living areas.
As mentioned above Royal Caribbean International has 20 more coequally splendid cruise ships namely; Adventure of the Seas, Allure of the Seas, Anthem of the Seas, Brilliance of the Seas, Enchantment of the Seas, Explorer of the Seas, Grandeur of the Seas, Harmony of the Seas, Independence of the Seas, Jewel of the Seas, Mariner of the Seas, Navigator of the Seas, Ovation of the Seas, Quantum of the Seas, Radiance of the Seas, Rhapsody of the Seas, Serenade of the Seas, Spectrum of the Seas, Vision of the Seas and Voyager of the Seas. The ever-growing cruise line has 6 additional ships being built.
To be continued…