Scottish tidal energy company Nova Innovation has received authorization from Fisheries and Oceans Canada (DFO) to install five 100kW in-stream tidal turbines in Petit Passage in Nova Scotia.
The approval is related to the first phase of the larger 1.5MW tidal energy array project, which received approval from Nova Scotia's Department of Energy and Mines late in 2019.
The latest authorization from DFO covers the development and operation of a 500kW in-stream tidal energy array, that will be conducted in two distinct phases – Phase 1a and Phase 1b.
The five turbines to be used in this phase are Nova M100-D – 2-bladed, bi-directional, horizontal axis turbines rated at 100kW each.
Nova believes the smaller profile of its M100-D turbines, at 100 kW, will enable them to withstand the Fundy tide and operate without endangering marine life, the company said earlier.
Each turbine will be installed on a subsea gravity-based structure and connected to onshore infrastructure via a subsea cable. They have a blade diameter of 9.5 meters and a maximum rotational speed of 27 rotations per minute, with the blade-swept area of approximately 57 square meters each.
Phase 1a will consist of installation, commissioning, and operation of one turbine for a period of approximately one year.
Additional four turbines will be installed, commissioned and operated as part of Phase 1b. The total proposed project will be carried out over a period of approximately three years, according to Nova.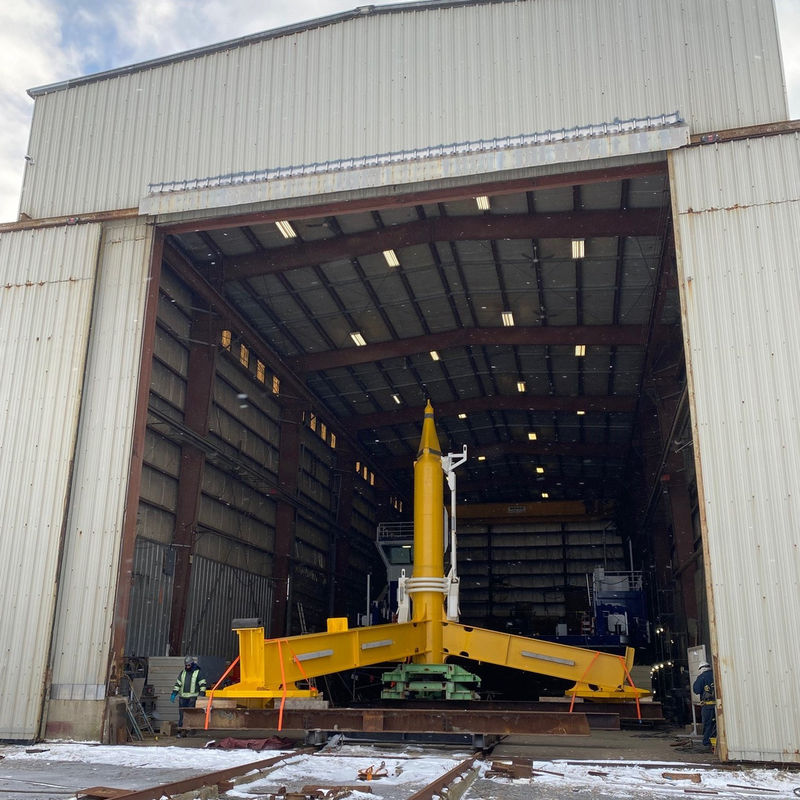 The first turbine will be closely monitored before the next four turbines are installed. This will be carried out using instruments attached to the turbine and mounted on a Remote Observation Platform (ROP) that will be placed on the seabed close to the turbine.
Nova will install the ROP on the seabed in Petit Passage to gather data on marine wildlife in the area before the first turbine is installed, the company noted.
Before installation of any additional turbines for the Phase 1b, Nova said it will consider the results of the environmental monitoring of the first turbine deployed in Phase 1a, and provide an updated environmental effects monitoring plan to DFO for review and approval.
The full 1.5MW tidal array will be developed in three separate 500kW phases, allowing for careful environmental monitoring at each stage
Right now, the first turbine for project is taking shape in Nova Scotia (pictured) ahead of deployment planned offshore Digby Neck peninsula.
Source: Offshore Energy