Holland America Line has been a recognized leader in cruising. Holland America Line is an American-owned, deluxe, exclusive cruise line that was founded in Rotterdam, Netherlands. It has been exploring the world since 1873. Since 1989, it has been a subsidiary of Carnival Corporation & plc headquartered in Seattle, Washington, United States. It operated as a Dutch shipping line, a passenger line, a cargo line, and a cruise line, primarily between the Netherlands and North America.
In 146 years, Holland America has set sail with more than 11 million travelers on exotic and fascinating journeys around the world. Holland America also visits historical and culturally diverse corners of the globe along with offering voyages to the tropics.
Holland America Line has a fleet of 11 modern classic ships that offers more than 500 exciting cruises a year to beyond 470 ports in approximately 100 countries, provinces, or territories around the world. Depending on the 128-days itineraries, the company's cruises visit all seven continents, where passengers can explore South America, Antarctica, Africa, India, the Pacific Rim, Australia & New Zealand and Asia voyages, popular sailings to the Caribbean, Alaska, Mexico, Canada & New England, Europe, and the Panama Canal, and other extended Grand Voyages, without soaring through the clouds on an international flight.
The line introduced Nieuw Statendam, the top-ranked ship overall, in December 2018. A third Pinnacle-class ship, Rotterdam, has recently joined the fleet in July 2021.
Holland America Line pampers well-to-do individuals with an ideal mid-sized ship experience, carrying 1,258 to 2,666 guests. These ships provide excellent services with two or three crew members for every passenger on board.
Holland America cruises – which depart from U.S. cities like New York and San Diego and can last anywhere from one to 128 days – offer passengers exotic destinations, overnights in many well-known ports, enlivening shore tours, and a diverse range of interesting onboard enrichment programs like digital photography, cooking demonstrations and mixology workshops along with other activities ranging from animal encounters to bike tours and even helmet diving.
The best live music at sea lightens the evening at Music Walk. When it comes to dining style, Holland America Line allows flexibility. You can mingle with fellow passengers over a five-course dinner in the main Dining Room, sample fresh seafood in the Pinnacle Grill or take advantage of 24-hour room service.
Now, when we talk about Holland America's fleet, let's list these fascinating cruise ships according to their year of launch. So, sit back and read through the first on our list:
Rotterdam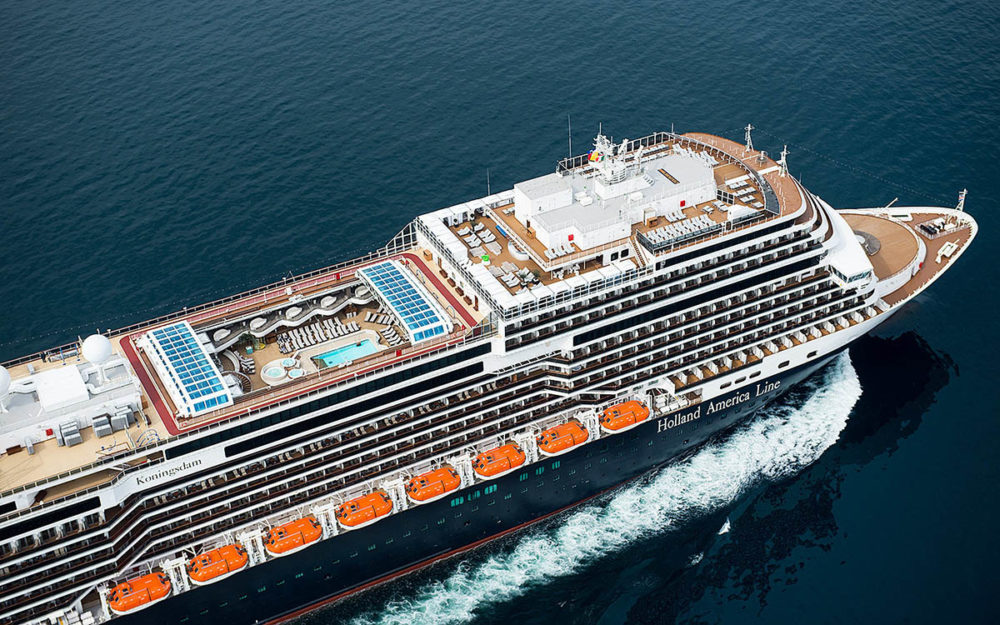 A new ship (and new flagship) built-in 2021, carrying approximately 2668 – 3210 passengers, named Rotterdam, is the third in Holland America's Pinnacle-class fleet. It ensures you have the ultimate experience on your ocean-going voyage with ultra-modern facilities.
You come across superb dining, innovative entertainment, large and standard ocean view staterooms and suites, etc. that reflects nearly 150 years of seafaring expertise. Pinnacle Suite's passengers access the Neptune Lounge offering refreshments, widescreen TVs, and complimentary laundering and dry cleaning throughout their voyage. The ship is also equipped with the Crow's Nest, a lounge at the top of the ship. Teens will be amazed as they will find several Club HAL youth areas, as well as 'The Loft', an area designed for teenagers. The ship also houses a unique multimillion-dollar art and antique collection.
Rotterdam's collection of distinct eateries range from the Lido Market buffet to the casual New York Pizza to the more formal Pinnacle Grill steakhouse. Music is at the forefront of this new cruise ship.
Nieuw Statendam
Nieuw Statendam, the second in the line of Pinnacle-class cruise ships collection, is a 2666 – 3218 passenger cruise ship which was launched in 2018. Like its sister ship, Koningsdam, Nieuw Statendam has an elegant, eye-catching design.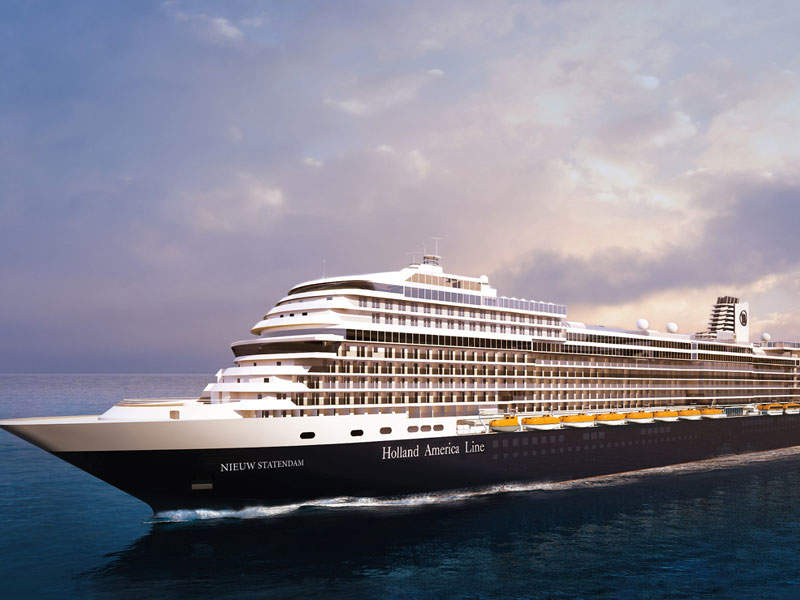 When bored at staterooms, guests have a multitude of innovative dining and entertainment options— from Rudi's Sel de Mer to Nami Sushi to the Rolling Stone Rock Room. They can also visit spas or pools, work out at the fitness center or sports court or participate in enriching activities like cooking demonstrations and wine-blending classes. At night, cruisers have several entertainment options, including the Lincoln Center Stage for chamber music, the B.B. King's Blues Club, or the World Stage for theatrical performances.
Accommodations range from Inside and Ocean View staterooms to Verandah staterooms to spacious suites with balconies and living areas.
Koningsdam
The first of the cruise ships in Holland America Line's Pinnacle Class, constructed in 2016, carrying 2650 – 3194 passengers, Koningsdam features a line-up of accommodation options, one of which is the majestic Pinnacle Suite, a 1357sqft one-bedroom beauty that offers lots of relaxing facilities.
Koningsdam consists of the World Stage with an old-style theatre experience, the modern Greenhouse Spa and Salon that offers thermal pools, heated ceramic lounges, and treatment rooms with an ocean view, Club HAL that offers a variety of youth and teen-friendly activities for guests aged 3 to 17 years, and a never-ending catalogue, that always keeps its guests entertained.
As the list goes on and on with the best of Holland America cruises provided to its guests, we may conclude the list with the remaining ones namely: Nieuw Amsterdam, Eurodam, Noordam, Westerdam, Oosterdam, Zuiderdam, Zaandam, and Volendam that have given the best of cruise experience to passengers all these years.
In this COVID-19 situation, Holland America Line is currently enhancing health and safety protocols and how they may impact future cruises.
Due to their long history of shipping and transportation, Holland America has developed its tremendous pedigree in the cruising industry so you can be sure that you will get to spend an awe-inspiring time of your life on this vacation.
Holland America Line has worked on constant improvements and updates to ships with all the fantastic innovative ideas which includes staterooms that are on average 25% larger than those on similar class vessels. In addition, Holland America Line strives to offer you the most unique destinations, itineraries, and shore tour offerings leaving you back with a home full of amazing memorable experiences.
To be continued…