A slight reduction was clear in the S&P market this past week, as Easter Holidays and Spring Break festivities were in full motion. In its latest weekly report, shipbroker Allied Shipbroking said that "on the dry bulk side, the overall activity momentum shifted slightly as of the past week, given the relatively limited number of transactions that came to light. A fairly different picture compared to the volume noted throughout 1Q2021, though relatively explained by the Spring break disruptions that are taking place. Though in part we are also seeing many sellers step back and as such hold back transactions, in their effort to hopefully get better prices down the line. Notwithstanding this given the general good sentiment and recent buying appetite levels, we can expect things to quickly ramp up. On the tankers side, another good week in terms of activity noted. Despite the prolonged uninspiring freight rate levels, we are currently amidst a different track both in terms of vessel prices, as well as, transactions levels. If this can be translated as an improving forward sentiment, we could expect a more interesting SnP market to emerge in the near term".
Similarly, shipbroker Banchero Costa added that "in the dry market, 2 Japanese controlled units were reported sold during the week. Newcastlemax Shin Nichiho 203,000 dwt built 20015 Universal has been sold to Chinese buyers for $16.5 million (back in January Azul Victoria 203,000 dwt built 2006 Imabari was reported at $14.25 million) and cape Kumiai Shagang 180,000 dwt built 2011 Sungdong at $26.8 million basis SSDD freshly passed and BWTS fitted. After being committed to South Korean buyers for $22 million in recent weeks and failing, it appears that the Stella Dora 82,000 dwt built 2014 Jiangsu Jingling (electronic M/E, BWTS fitted) has now been sold to a Chinese buyer for a high $21 million. Two Dolphin 64 Ultramaxes ice class Emperor 64,000 dwt built 2015 Zhejiang and Snowy 64,000 dwt built 2015 Zhejiang (both BWTS fitted, ice class 1C) are rumoured to be under negotiation in the $19 million range, while GH Seabird 63,000 dwt built 2016 Yangfan (BWTS fitted) was reported at $19.5 million two weeks ago.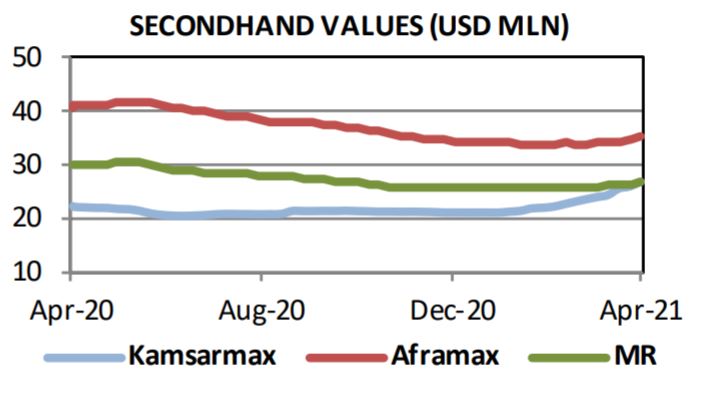 A Navios controlled Handy bc Navios Serenity 35,000 dwt built 2011 SPP (SS/DD due July 2021) was purchased by Greek buyers at $10.5 million. In the tanker market, two MR1 Krisjanis Valdemars (BWTS fitted) and a Nord Hummock 37,000 dwt built 2007 HMD sold for $10 and $9 million, respectively, while an Emerald Star 37,000 dwt built 2005 HMD sold for $8.5 million in recent weeks (BWTS fitted). During the week, four J19 St/St chemical tankers, As Omaria, As Olivia, Octaden, and As Orelia, each 19,000 dwt and built 2007/2008, were sold en bloc for $41 million to c. of Tufton".
Meanwhile, in the newbuilding market this week, Allied Shipbroking said that "it seems as though it has been a fairly quiet week in the newbuilding market, especially for the dry bulk segment which had ramped up a fair bit of activity during previous weeks. However, it was not a totally inactive week, as the order of 2 Kamsarmaxes and 1 Ultramax came to light. The bullish sentiment still dominates the segment and thus we expect interest from buyers to remain strong in the coming weeks. Nevertheless, the rising momentum noted in newbuilding prices, nourished from the increased demand, are slowly trimming some of this interest.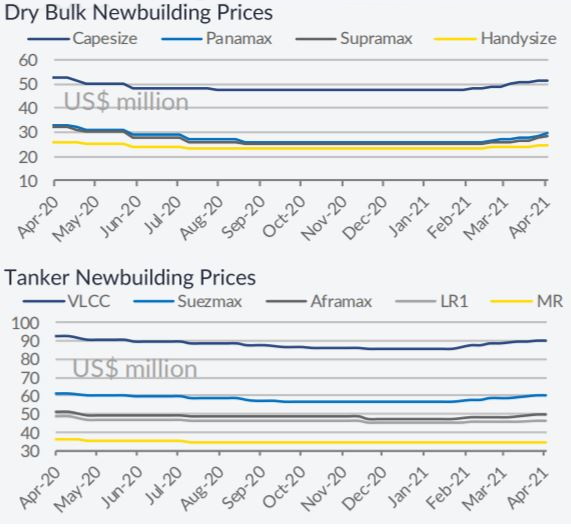 In the tanker market, it was another uninspiring week, with no fresh business being noted as of late. The improved, but still unconvincing freight earnings and the deeply hurt sentiment amongst owners are expected to play a key role over the coming weeks as well. There is a need for a significant upturn in the demand/supply balance in order for fresh capital and investment to be pored into this segment. At the same time, prices are also not yet at levels that could be considered bargain deals. Finally, it is worth mentioning, that a boom was witnessed in the containership segment this past week, in line with the current market fundamentals and the positive outlook for this specific sector".
In a separate note, Banchero Costa added that "in the drybulk sector, Ocean Longevity of Hong Kong has ordered two Capesize 180,000 dwt vessels from Namura Shipbuilding in Japan for delivery in end 2022 and early 2023. The price was not disclosed. The tanker sector has been quiet this week, but in the gas sector, Cido Shipping has ordered two 91,000 cbm VLGS for delivery in 2023. The vessels will be dual-fuel, with a price tag of $80 million apiece", the shipbroker concluded.
Source: Hellenic shipping news