"After I am gone, no single person will be able to completely represent me, but a little bit of me will live in many of you. If each puts the cause first and himself last, the vacuum will to a large be filled." – Mahatma Gandhi
Though to gauge the difficulty of speaking about a humanitarian like Mahatma Gandhi is overwhelming, team SeaAndJob would like to make a polite attempt of revealing to our readers, the part of his multifaceted ideals and philosophy that lives within our firm as well as around the world. With a will of iron, he started from profound inner conversion, which led to a peaceful revolution. It is the part of him which inspires within us, the vision to achieve the status of the 'revolutionary publication'.
Geared towards paying homage to the epitome of peace and humility, we have listed down a few unique statues of Mahatma Gandhi across the globe and their significance as a way to exhibit a light that lives on, in each one of us.
A Bust of Mahatma Gandhi to be Erected at IMO Headquarters in London 
After applauding India's engagement with IMO and role with the International community in the global maritime scenario, IMO Secretary-General Kitack Lim in a meeting with Shri Mansukh Lal Mandaviya, Ministry of Shipping, India at Davos, Switzerland, consented for setting up the bust of Mahatma Gandhi at IMO headquarters, London marked the 150th birth anniversary celebration as a respect for the great global leader.
Gandhi's Two Sided Bust at South African Railway Station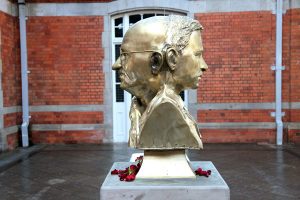 The iconic Pietermaritzburg railway station in South Africa, unveiled a two-sided bust of Mahatma Gandhi in June, 2018. It is a place where Gandhi was thrown out of a "whites-only" compartment 125 years ago, was an incident that acted as a catalyst for him to practice Satyagraha, It features Gandhi as a young lawyer wearing a suit and tie, on one side, and as the older, bespectacled Mahatma Gandhi on the other. A unique Smart Sound Kinetic Power Device was installed near the statue that plays Gandhi's favorite bhajans and a speech in his voice.
A Non-bespectacled Bust of Gandhi in Luxembourg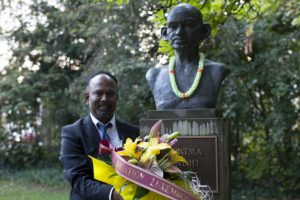 Mahatma Gandhi's statue in Luxembourg's Municipal Park has been devoid of glasses since the time it was unveiled in 1973, showing a non-bespectacled Gandhi, artist Amar Nath Sehgal has attempted to access the hidden dilemmas and anxieties of painful memories of partition throughout his career and going against the grain by pioneering Indian artist's moral right.
Gandhi Smriti, A New Delhi Monument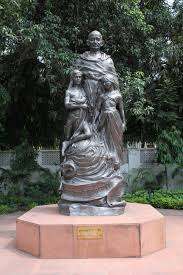 The Gandhi Smriti Museum in New Delhi, India is a place where Mahatma Gandhi spent the last 144 days of his life before which he was unfortunately assassinated on the 30th of January 1948. A large statue at the main entrance of Gandhi Smriti memorial, with children on both the sides symbolizes his lifelong teachings of peace and non-violence.
After India, the US has the Largest Number of Gandhi Busts
A piece of information tweeted by the US embassy stated that though Gandhi never visited the United States, but other than India, the U.S. has the largest number of Gandhi's statues, memorials and busts. Indeed, a global icon who with the values of non-violence and tolerance attracted many followers all around the world.
Mahatma Gandhi's Bust in Washington D.C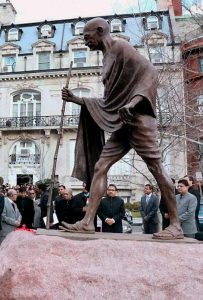 Mahatma Gandhi Statue at Downtown Riverside in California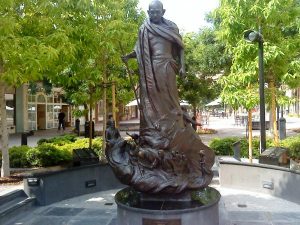 Mahatma Gandhi Statue in San Francisco