'THE ROAD SHOW & MoU SIGNING CEREMONY' organized by the Directorate General (DG) Shipping on Saturday, 27th February 2021 was a great success. A total of 61 MoUs (Memorandum of Understanding) with estimated investment of more than Rs.20,000 crore, were signed between the Stakeholders and the DG Shipping, Govt. of India ahead of the Maritime India Summit (MIS21), scheduled to be held virtually from 2nd to 4th of March, 2021 by Ministry of Ports, Shipping and Waterways.
Shri Kumar Sanjay Bariar, Additional Director General of Shipping introduced the event with a warm welcome. Addressing the event, he stressed that summit will be witnessed by various Stakeholders including Policy Makers, Policy Planners, national and international Investors and CEOs, Industry Experts, Bankers and Insurers, Port and Shipping Lines across the world. He affirmed that the vision of MIS21 is to strongly attract investments in India and to create better employment and business opportunities for Indian Seafarers. It will also provide an opportunity of networking with exhibitors through visual platform in order to improve global trade practices. The summit showcases the efforts and planning and engagement of DG with industry partners, associations and unions during last few months. He therefore invited the industry stakeholders to largely take part in the Summit.
A film on Maritime India Summit-2021, presenting a detailed road show of the summit was presented at the event. This film provided a clear picture for visitors and stakeholders on how to register, log in and interact with various exhibitors through social media, during the summit. The video has now been made available on their website for future reference.
Further, stakeholders were humbly requested to join in physically or online for the signing of MoUs. Around 61 MoU between stakeholders and DG Shipping, were signed in various subsectors of the Indian Maritime Industry with purpose like-
Acquisition of ship for registration under Indian flag.
Promotion of ship building, container management and repair.
Advancement of knowledge in technology, Port advancement.
Development of hybrid or fuel efficient vessels, green shipping promotion.
Creating Dry docks- Konkan cluster development.
Increasing employment opportunities for Indian seafarers.
Establishment and extension of institutes for research and training academies in India.
Increase marketability of Seafarers in the world.
Sponsoring candidates for higher education, skill development, upgradation and training.
Overall modernization of Indian shipping industry.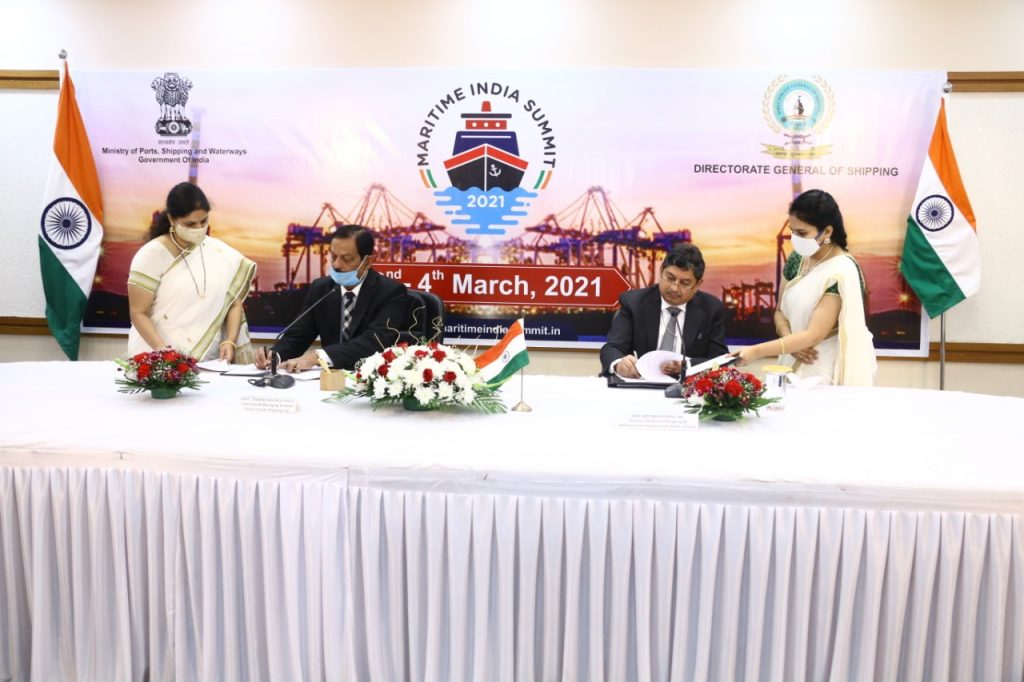 Shri Amitabh Kumar, IRS, Director General of Shipping addressed, that the summit is a vision of Shri Mansukh L. Mandaviya, Union Minister of State for Ports, Shipping and Waterways stated that the MoUs are signed to bring about a positive change in the shipping industry. DG shipping has taken this step ahead of the Summit with the hope to make India self-sufficient. The 'Make In India' vision is the leading factor in the signing of these MoUs. He emphasized the fact that the Hon'ble Prime Minister of India, Shree Narendra Modi, has been a key motivator in making Maritime Industry 'Atma Nirbhar' and therefore will be inaugurating the summit. The total MoUs signed, with an investment of more than Rs.20000 crore is expected to generate employment opportunities for around 50,000 seafarers in five years.
During the MIS-21 the Hon'ble Prime Minister of India, Shree Narendra Modi will also inaugurate a prestigious and strategic facility established by the DG Shipping namely 'SAGARMANTHAN', the Mercantile Maritime Domain Awareness Centre (MM-DAC) located in Mumbai. The objective of the summit is to steer India to the forefront of the global Maritime sector.
Shri Amitabh Kumar, IRS, DG Shipping asserted, "As we implement these MoUs in a year or so, we will see a spur in the growth of Maritime industry. We have the resource, knowledge, manpower and the will to take India to the next stage in maritime sector." He hopes to make India a knowledge hub, employment hub and is of the opinion that the summit will be the best organized summits on virtual platform, richer in knowledge.
Further, he concluded that the comet of signed MoUs, show the strength and commitment of Indian ship builders and other allied industries in promotion of ship ownership and management and in Maritime training.
Finally, Dr. Pandurang Raut, Deputy Director General of Shipping presented a profound vote of thanks to all participants present at the event physically and virtually. He also thanked media members for attending the event. He was proud of the fact that around 60 MoUs with DG fields related to Maritime sector despite pandemic.
For more information visit- https://www.maritimeindiasummit.in/